Mountain photovoltaic power generation system solutions
In recent years, with the development of photovoltaic power plant construction, large-scale ground photovoltaic power plant has moved from the northwest to the mainland, the plains to the mountains. Mountain photovoltaic power plant is in the mountains, hills and other complex terrain construction of photovoltaic power plants.
1, the photovoltaic field:
Mountain photovoltaic power plant photovoltaic field area ratio is higher than the conventional ground power plant, generally more than a thousand acres, by the PV module, installation bracket, convergence box, box inverter and other major equipment. Due to the complex and varied terrain of the mountain, the inverter is more suitable for selecting the string. The photovoltaic field is the core of the photovoltaic power plant, the field area of ​​the magnificent, able to build the company's image, brand promotion to provide quality material.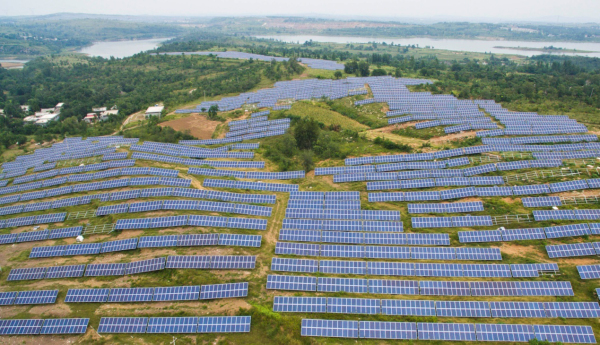 2,35KV high voltage switchgear:
For the centralized ground power station, the main use of 35kV high voltage switchgear as the power station of the main collection and distribution equipment, the current Division I 35kV high voltage switchgear installation methods are concrete frame structure, steel structure, prefabricated 3, the Division I will be based on the specific needs of customers and power station construction cycle, select the appropriate installation, to complete the construction of the power station tailored.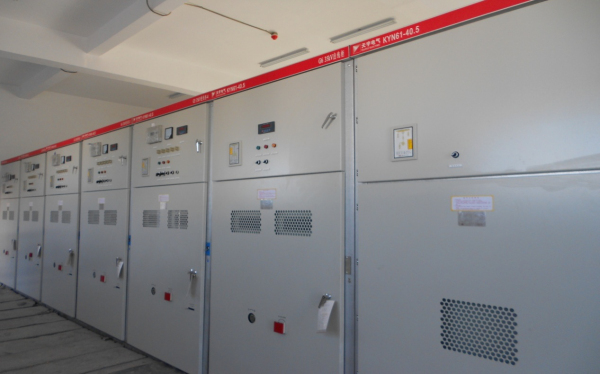 3, The central control room is the brain of the photovoltaic power plant, the total station power generation, power generation, all kinds of equipment running state, the key area of ​​video surveillance will be in the control room intuitive embodiment, combined with the current intelligent equipment, Customers provide fully automated operation and maintenance experience, and fully reduce the customer's labor costs.
4, step-up station, switch station:
The power station, main transformer, reactive power compensation device and other major equipment, 10 ~ 30MW ground power station generally through the switch station 35kV grid, 30 ~ 200MW general Through the boost station boost to 110kV and network, more than 200MW 220kV voltage level can be considered grid.
5, photovoltaic power generation system topology:
Mountain photovoltaic power plants are also concentrated in the field of ground power plant, the core power generation components for the PV module, the light energy into electricity, through the inverter DC - AC conversion, the components of the DC into a convenient transport and use of alternating current. Centralized photovoltaic power plant capacity is large, in order to reduce the collector loss, the inverter output voltage is generally increased to 35kV through the box to 35kV, 35kV switchgear through the 35kV grid, or after the main transformer after the second boost Through 110kV or even 220kV voltage level and network.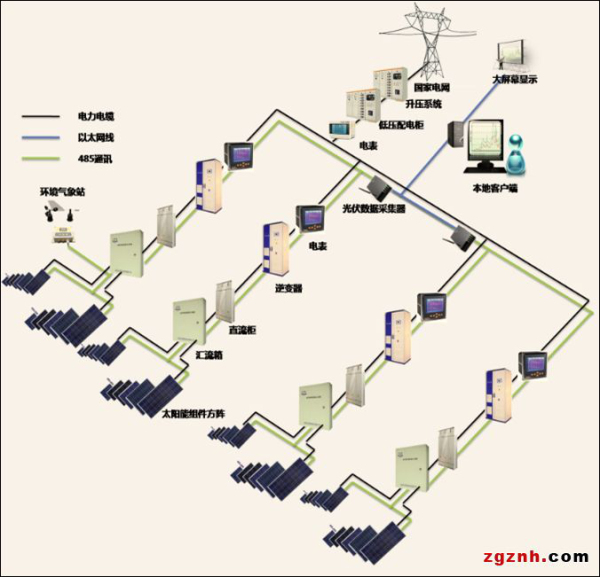 Product Features:
1, terrain irregular, scattered;
2, choose a reasonable basis for the form can effectively reduce the cost of civil construction;
3, the preferred group of string inverter can increase the amount of electricity;
4, multi-channel MMPPT to reduce the inconsistency and occlusion caused by mismatch loss.